CHAIR DDSA Laval University Scholarships in Canada 2022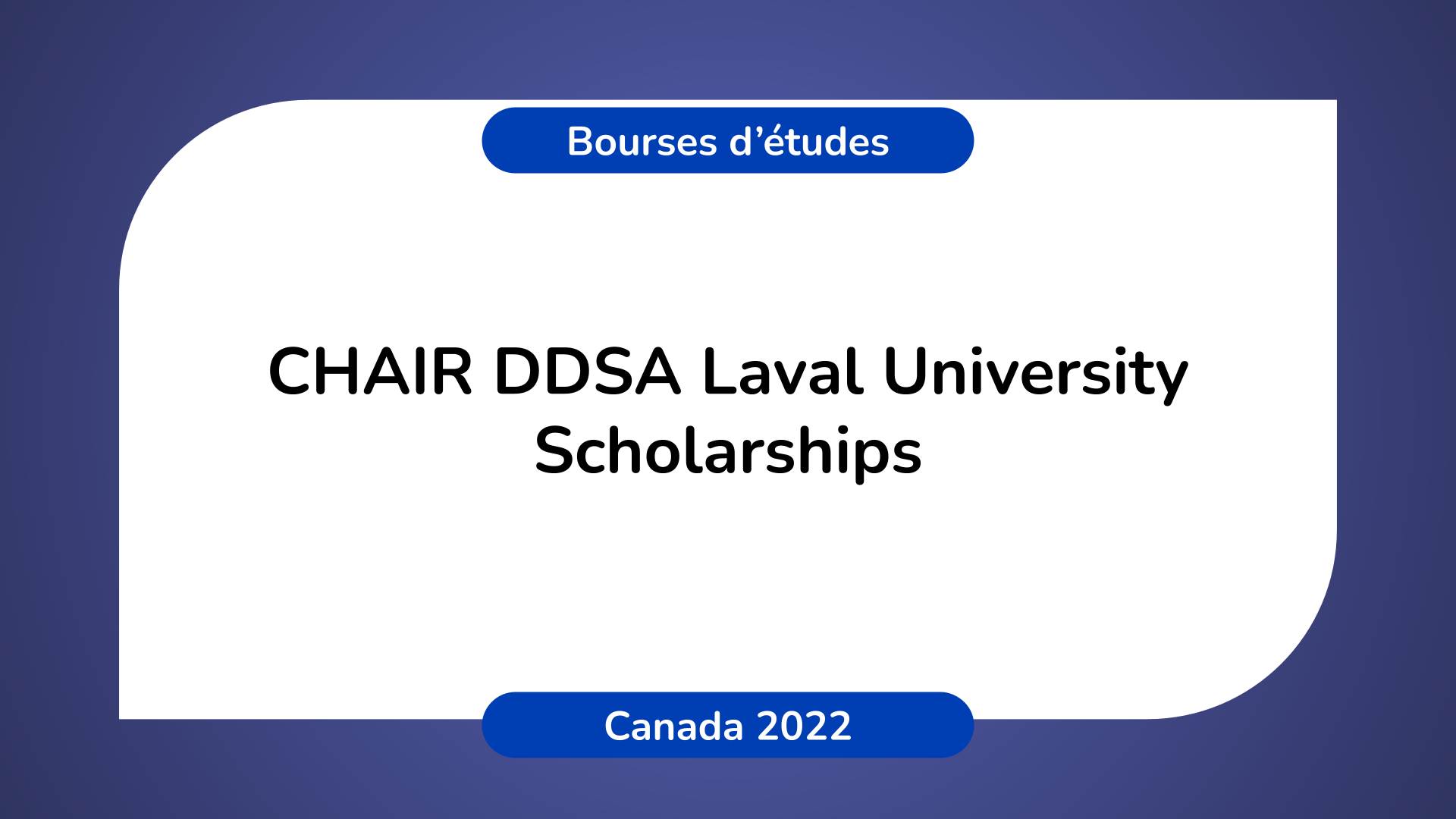 CHAIR DDSA Laval University Scholarships in Canada 2022
Discover the University of Montreal scholarships in Canada for the 2021-2022 academic year.
Find all the requirements and conditions to be able to apply for this scholarship in Canada.
Indeed, you must meet the requirements requested by the organization to be able to benefit from this scholarship.
Thus, in this scholarship in Canada for the year 2021, we invite you to discover:

Target countries.
Target groups.
The name of the scholarship.
The organization offering this scholarship.
The academic year of the scholarship.
The country of the scholarship.
Target study levels.
The study specialties of this scholarship.
The amount of the scholarship.
The deadline to apply for this scholarship.
The description and presentation of the scholarship.
How to apply for the scholarship.
The link to apply for the scholarship.
The official link of the organization offering the scholarship.
Other information if it exists.
Indeed, scholarships are the best way to  study abroad .
Moreover, several  universities abroad  offer hundreds of scholarships each year.
Discover all the information and requirements to apply for this scholarship.
Target group of the scholarship:
Target Countries: All countries
Group: All groups
The organization offering the scholarship:
Name of scholarship: DDSA CHAIR scholarships
Organization: Laval University
Scholarship data:
Year of scholarship: 2022
Country: Canada
Organization: Laval University
Level of study: Doctorate
Scholarship Specialty: Food Security
Amount of the Scholarship: $2000
Deadline to Apply: September 26, 2021
Description of the scholarship:
Laval University is pleased to announce the opening of scholarships within its faculties for foreign students.
Encourage and encourage students to undertake graduate studies for a master's degree in law at Université Laval and to focus their essay or dissertation on a subject related to food diversity and food safety.
The scholarship recipients will be chosen on the basis of the quality of their academic record, the relevance of their research project.
You can have more details on Canadian universities by consulting our selection of articles available in English:
The file must include:
A cover and motivation letter
The summary of the planned research project with the possible benefits of the project
A curriculum vitae of professional and academic experiences, awards and distinctions;
The final transcript of marks from the previous level of studies, i.e. the 1st cycle;
Two appraisal reports
It is strongly recommended that documents be converted to PDF format, grouped and compressed when sending.
How to apply for the scholarship?
Before applying for a scholarship, you must first prepare your CV and cover letter.
Indeed, any scholarship file must include these two essential documents.
To help you prepare your CV and cover letter, we suggest that you read these two articles:
To apply for these scholarships, please apply via the link below.
Other Information:
No other information regarding these scholarships.
This article may also interest you:

The 20 Best  Jobs For Students Online .
This post is also available in :
Français