Concordia Presidential Scholarships in Canada 2021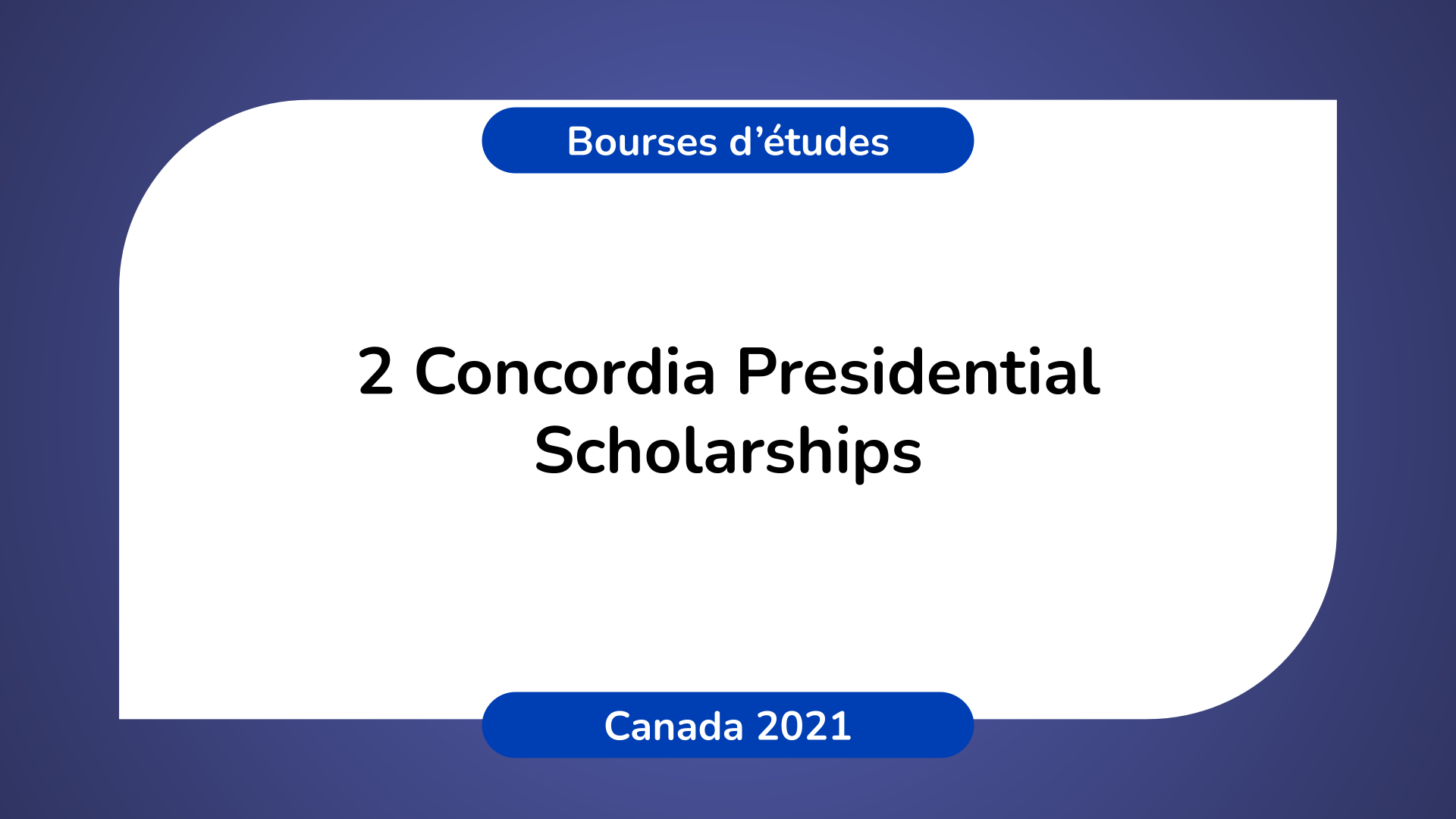 2 Concordia Presidential Scholarship Canada Scholarships 2021
Apply for one of the 2 Concordia Presidential Scholarships in Canada for the 2021-2022 academic year.
Find out all the requirements and requirements to be eligible to apply for this study in Canada scholarship.
Target group of the scholarship:
Target Countries: All
Group: All
The organization offering the scholarship:
Scholarship Name: Concordia Presidential Scholarship
Organization: Concordia University
Scholarship data:
Year of scholarship: 2021
Country: Canada
Organization: Concordia University
Level of study: Bachelor's degree
Scholarship specialty: Humanities, Social Sciences, Law, Computer Science, Fundamental Sciences, Art, all specialties…
Scholarship Amount: Up to 100% of tuition fees
Deadline to Apply: February 1, 2021
Description of the scholarship:
Each year, Concordia University welcomes outstanding international students from around the world to study, research, and innovate at our thriving institution.
The Concordia Presidential Scholarship is a newly created scholarship designed to support international undergraduate students who have demonstrated academic excellence, community leadership, and motivation to better the global community.
This scholarship will cover tuition and fees, books, and living expenses based on Concordia's residency rate.
The scholarship is normally renewable for up to four years assuming students meet all renewal requirements.
Eligibility
First time at university.
Study full-time in an undergraduate program.
International student, paying the full international student rate.
Beginning of studies at Concordia University in the fall of 2021.
How to apply for the scholarship?
Please apply via the link below.
Other Information:
Candidates and proposers will each receive a confirmation of receipt by e-mail if the file is complete.
Incomplete entries will be disqualified without notice.
All complete applications will be reviewed by the Concordia Undergraduate Scholarships and Awards Committee.
Once the decision has been made, applicants will be notified by email.
This post is also available in :
Français