7 University of Toulouse Doctoral Scholarships in France 2021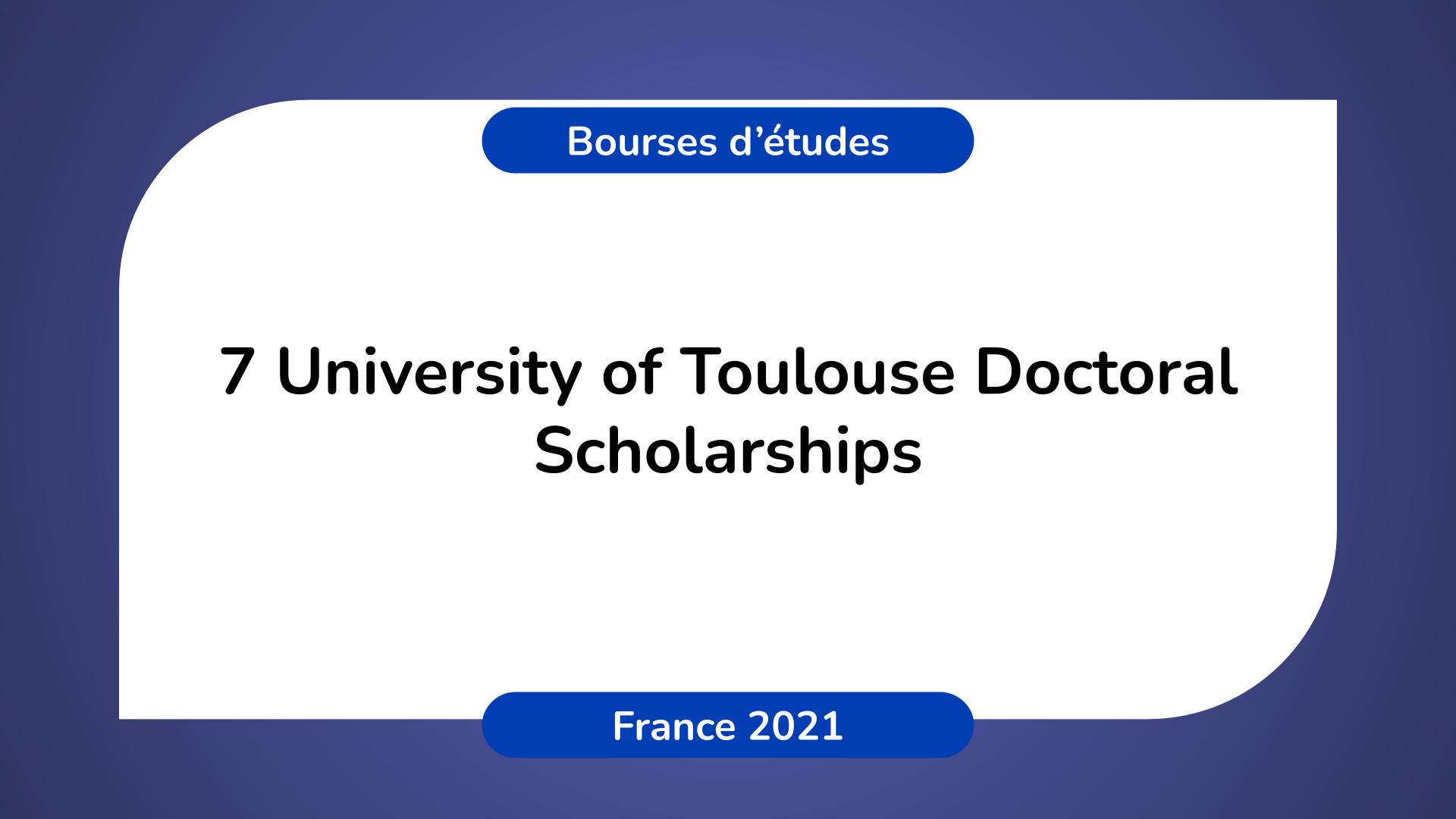 7 University of Toulouse France Doctoral Scholarships 2021
Discover and apply for the 7 Doctoral scholarships at the University of Toulouse in France for the academic year 2021-2022.
Find all the information and requirements to be able to apply for these scholarships in France.
Target group of the scholarship:
Target Countries: All
Group: All
The organization offering the scholarship:
Name of scholarship: University of Toulouse Doctoral Scholarships
Organization: University of Toulouse
Scholarship data:
Year of scholarship: 2021
Country: France
Organization: University of Toulouse
Level of study: Doctorate
Scholarship specialty: Mathematics
Grant amount: €1,900 / month
Deadline to Apply: March 12, 2021
Description of the scholarship:
The Labex CIMI is putting out to competition between 4 and 7 doctoral contracts ((co-)financing of 3 years) with amendment for the start of the 2021 academic year.
These supports are added to those of the Doctoral School Mathematics Computer Science Telecommunications of Toulouse (EDMITT).
CIMI doctoral scholarships are open to all French and foreign students holding an M2.
The research themes will be part of those of the Toulouse Mathematics Institute (IMT), the Toulouse Computer Science Research Institute (IRIT) and the ROC, SARA, MAC, TSF and VERTICS teams of the Laboratory of systems analysis and architecture (LAAS).
The main evaluation criterion will be the quality of the candidates' academic record. In addition, the Labex CIMI encourages thesis subjects at the interface between mathematics and computer science.
Co-financing is possible.
Recruited doctoral students will receive a salary of €1,900 gross per month.
They will have the possibility of signing a course amendment for the duration of their doctorate.
How to apply for the scholarship?
Please apply via the link below and send the required documents:
A CV of the candidate
Transcripts from L to M2
A cover letter from the candidate
A description of the thesis subject signed by the candidate and his supervisor
If applicable, a proposal for co-financing
Other Information:
The applicant is responsible for ensuring that their application file is complete by the closing date.
Incomplete files beyond the closing date will not be considered.
This post is also available in :
Français