87 MIRES International Masters Scholarships University of Paris 2021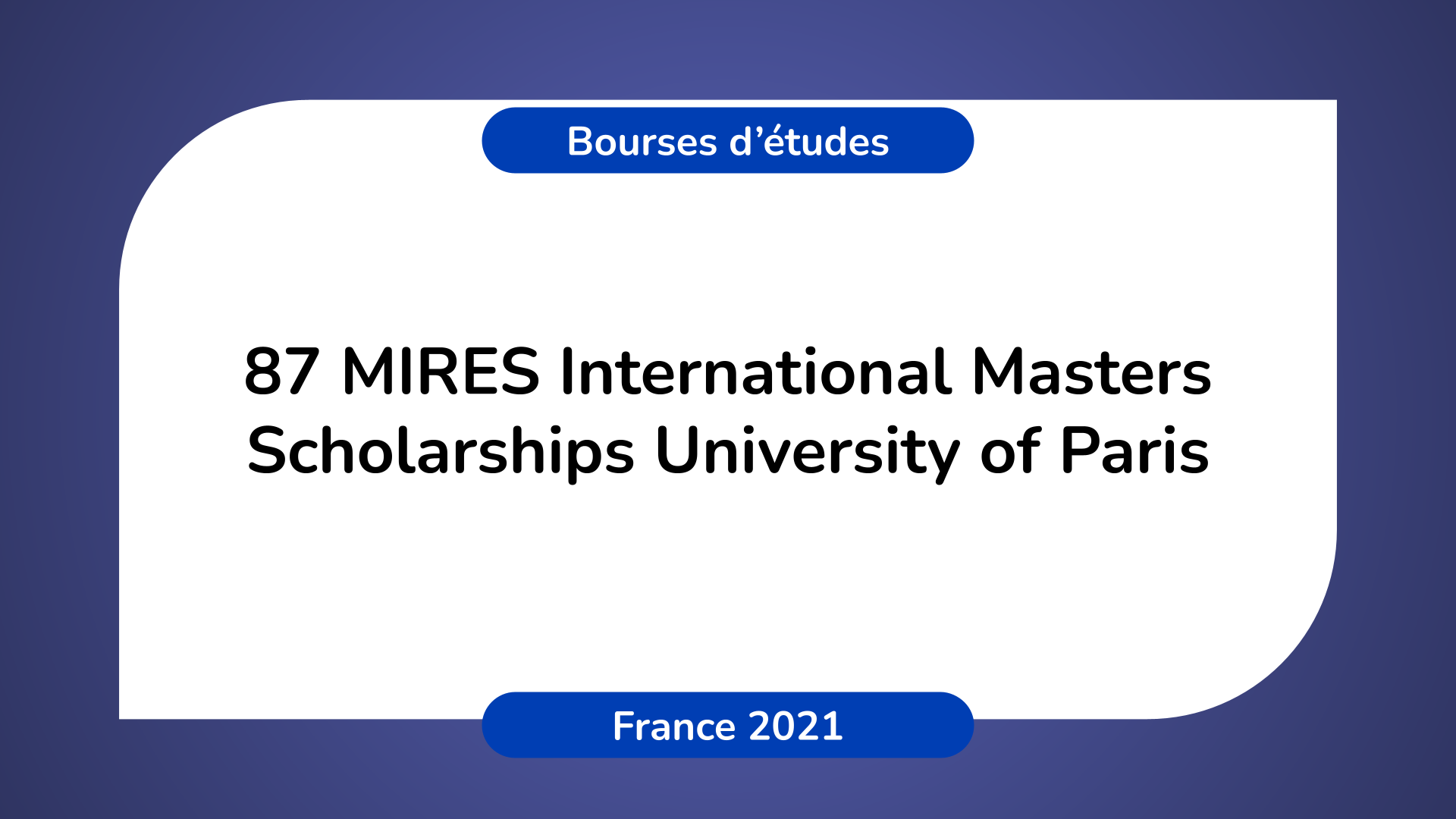 87 MIRES International Masters Scholarships University of Paris France 2021
Discover the 87 MIRES University of Paris Master's International Scholarships in France for the 2021-2022 academic year.
Find the conditions and documents required to apply for this scholarship.
Target group of the scholarship:
Target Countries: All
Group: All
The organization offering the scholarship:
Scholarship name: MIRES
Organization: University of Paris
Scholarship data:
Year of scholarship: 2021
Country: France
Organization: University of Paris
Level of study: Masters
Scholarship specialty: Management, Economics; Law, Humanities and Social Sciences, Fundamental Sciences, Several
Scholarship amount: N/A
Deadline to Apply: November 15, 2020
Description of the scholarship:
Université de Paris is launching a call for applications as part of the International Mobility Master's scholarship program – MIRES 2020-2021.
Université de Paris wishes to promote the international mobility of its students to strengthen their skills and live a particularly enriching and formative international experience.
Thanks to IDEX funds, the University of Paris will issue, mainly on the quality criteria of academic careers, 87 international mobility grants through the MIRES program.
How to apply for the scholarship?
The student must first have completed the  MoveOn mobility application form  .
The application form duly completed and accompanied by the requested documents must be sent in a single pdf file.
Indicate in the subject of your request "Mires scholarship application file 2020-2021"
If the internship agreement is not signed when the application is submitted, a certificate of commitment indicating the location of the internship, the start date, the end date of the internship, the amount of any bonus by the University of Paris and/or the host institution.

Internship mobility: 2 internship choices can be made.
Study mobility: Up to 3 choices of study mobility host establishments may be made.
Other Information:
Any Master's student registered at the University of Paris and having applied for supervised mobility (studies and/or internships).
All University of Paris Masters are eligible for this scholarship.
This post is also available in :
Français