126 Sciences Po France Mastercard Foundation Scholarships 2021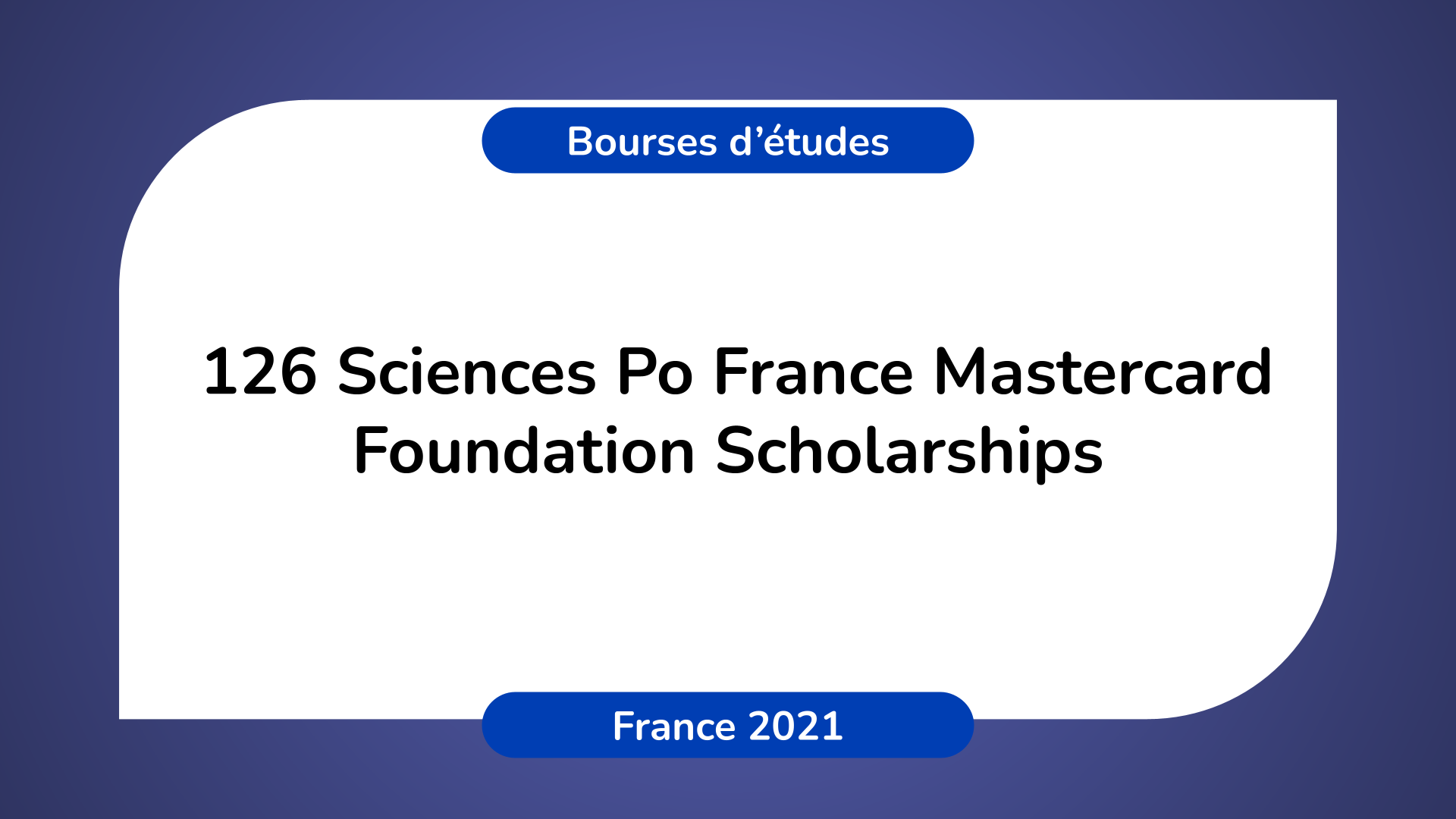 126 Sciences Po France Mastercard Foundation Scholarships 2021
Discover the 126 Mastercard Foundation Sciences Po scholarships in France for the 2021-2022 academic year.
Find the conditions and documents required to apply for this scholarship.
Target group of the scholarship:
Target Countries: African Countries
Group: All
The organization offering the scholarship:
Scholarship Name: Mastercard Foundation Scholarships
Organisation: Sciences Po Paris Institute
Scholarship data:
Year of scholarship: 2021
Country: France
Organisation: Sciences Po Paris Institute
Level of study: Masters
Specialty of the grant: Sciences po
Scholarship amount: N/A
Deadline to Apply: January 31, 2021
Description of the scholarship:
The Mastercard Foundation Scholars program at Sciences Po aims to support 126 talented African students throughout their studies and to provide the next generation of leaders with a world-class social science education, so that they can continue to become actors in the change in their country of origin.
Fellowships are awarded in collaboration with a network of partner institutions agreeing to the terms and conditions of the Nomination Framework.
The scholarships are awarded to students from sub-Saharan African countries with an outstanding academic record and strong leadership potential, but who face financial and other barriers to higher education.
All scholarships are granted for a period of three years for the bachelor's degree, two years for the master's degree and one month for the summer school. They cover all tuition fees at Sciences Po and living expenses in France during the study period.
How to apply for the scholarship?
In addition to funding their studies, Sciences Po will offer scholarship recipients a specific set of resources to ensure they receive appropriate academic support and to facilitate their transition from education to employment:
An orientation program and individualized academic advice throughout their studies at Sciences Po
A mentoring program offered in collaboration with the  Sciences Po Alumni Africa Division
Guidance and career support: an online job platform dedicated to professional opportunities in Africa (internships and first jobs).
Other Information:
In addition to the financing of their studies, scholarship holders benefit from personalized support throughout their studies.
This post is also available in :
Français