University of Dayton Scholarships in the USA in 2021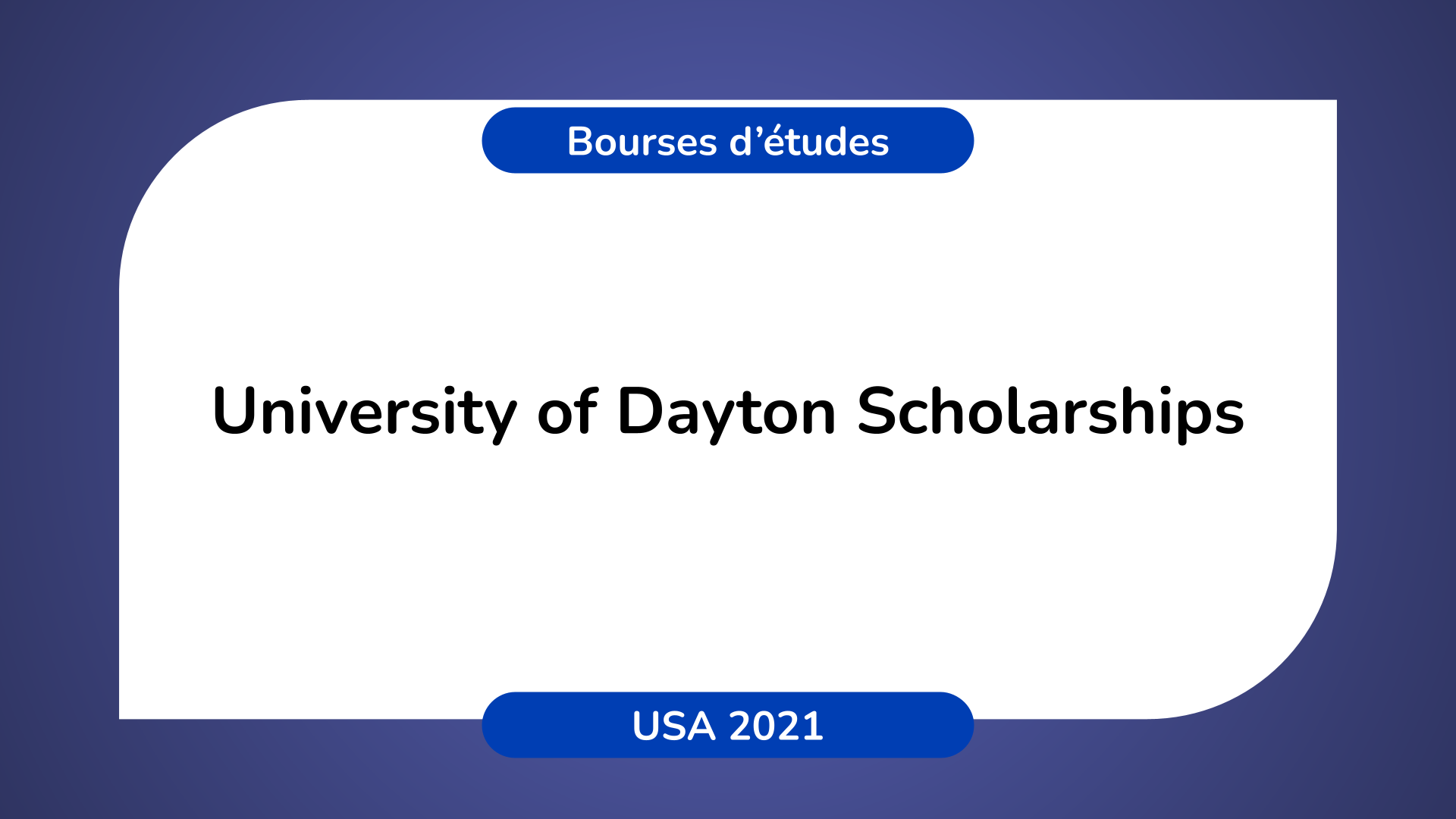 University of Dayton USA Scholarships 2021
Apply for the Scholarships at University of Dayton USA 2021.
If you have completed high school and want to earn your undergraduate degree in the United States. Apply for the International Merit Scholarship at the University of Dayton.
Target group of the scholarship:
Target Countries: All countries
Group: All groups
The organization offering the scholarship:
Scholarship Name: Scholarships at University of Dayton
Organization: University of Dayton
Scholarship data:
Year of scholarship: 2021
Country: United States
Organization: University of Dayton
Level of study: Bachelor's degree
Scholarship specialty: Biochemistry, Accounting, Finance, Computer science, All university specialties
Amount of the Scholarship: $26,000
Deadline to Apply: November 1, 2020
Description of the scholarship:
Founded in 1850 by the Society of Mary, the University of Dayton is an advanced doctoral-level university located in the city of Dayton in Midwestern Ohio.
UD is one of the 50 best schools in the United States for undergraduate academics and experiential learning that lead to great careers, according to The Princeton Review "Colleges That Create Futures: 50 Schools That Launch Careers by Going to beyond the classroom".
UD offers a wide range of opportunities for international students, which has earned the University the distinction of being named a leading university in the world for learning, living and support services, according to Barometer international students.
The program is designed for new international incoming and transfer applicants who will be starting undergraduate coursework at the university
The University of Dayton is the second largest private university located in Ohio, United States. It offers undergraduate and graduate programs in 18 departments for credit or service learning for one summer.
Why at the University of Dayton? At this university, candidates will benefit from various educational opportunities. The university allows students to accelerate their studies or explore new areas of interest while enjoying affordable tuition.
Once your application is complete, the assessment and review process takes approximately three days (some programs may have a longer assessment and review process).
Official decision letters, immigration documents and instructions to confirm your registration will be sent via United Parcel Service (UPS) to your registered mailing address (please do not provide a friend or relative's address to United States).
You can check your status at any time in your  application portal  to see what documents we have received and what is still needed to complete your application.
How to apply for the scholarship?
International students applying for first year or transfer to the University of Dayton must submit the following documents:
Application, including essay. The student can apply through the   University of Dayton Application  ,  Common Application ,   or  Coalition Application  . Regardless of the application you submit, there is no application fee.
Letter of recommendation (optional) . Letters can be sent to goglobal@udayton.edu directly from the recommender.
Official transcripts (in the original language). Transcripts from all secondary schools previously attended, including dates attended, all subjects studied, grades earned, and exam grades; any unpublished transcript in English must be accompanied by a certified English translation. Proof of completion must also be provided in the form of a graduation date shown on the transcript, diploma, or certificate of completion. If high school is still in progress, it must be submitted as soon as it is completed and prior to enrollment at the University of Dayton.
These can be sent from the high school directly to the University of Dayton by postal service to the address listed in the contact section of this page. Please note: If your institution is able to provide an electronic transcript, please ask them to send the official link to: transcripts@udayton.edu.
Please note that this does not include scanned, photocopied or emailed documents.
Proof of English proficiency  . If your first language is not English, you must submit proof of English proficiency by submitting TOEFL, IELTS, PTE, SAT or ACT scores. Your scores should be sent to the University of Dayton directly from the test center using code 1834.
Financial documentation. F-1 and J-1 students  must provide a letter of financial support and a bank statement showing sufficient funds to cover the first year of study. These can be emailed to goglobal@udayton.edu OR mailed to the address listed in the contact section of this page.
The University of Dayton awards international merit scholarships to selected freshman applicants and transfers international undergraduate applicants.
These scholarships are worth up to $105,390 over four years. Students are automatically considered for an International Merit Scholarship when applying for admission. Simply complete the  application for admission  for examination.
Other information :
Dayton is an affordable city – housing, food, transportation and entertainment are considerably cheaper in Dayton than in other US cities.
Undergraduate fees for international students for the 2020-21 academic year are as follows:
Tuition: $44,890 (fall and spring terms only)
Living expenses: $15,655 (including accommodation and meals)
Insurance and other costs: $4,750 (includes mandatory health and accident insurance, transportation, books, etc.)
Students must submit an official bank statement and financial support letter showing a minimum of US$65,295. The name on the bank statement and financial support letter must match.
Financial documents must be less than six months old.
Financial documents can be submitted in the national currency of your country corresponding to the amount needed in USD.
Students sponsored by the government or embassy of their home country must submit the official letter of financial guarantee.
These documents can be emailed to goglobal@udayton.edu
This post is also available in :
Français