University of Hertfordshire Scholarships in UK in 2021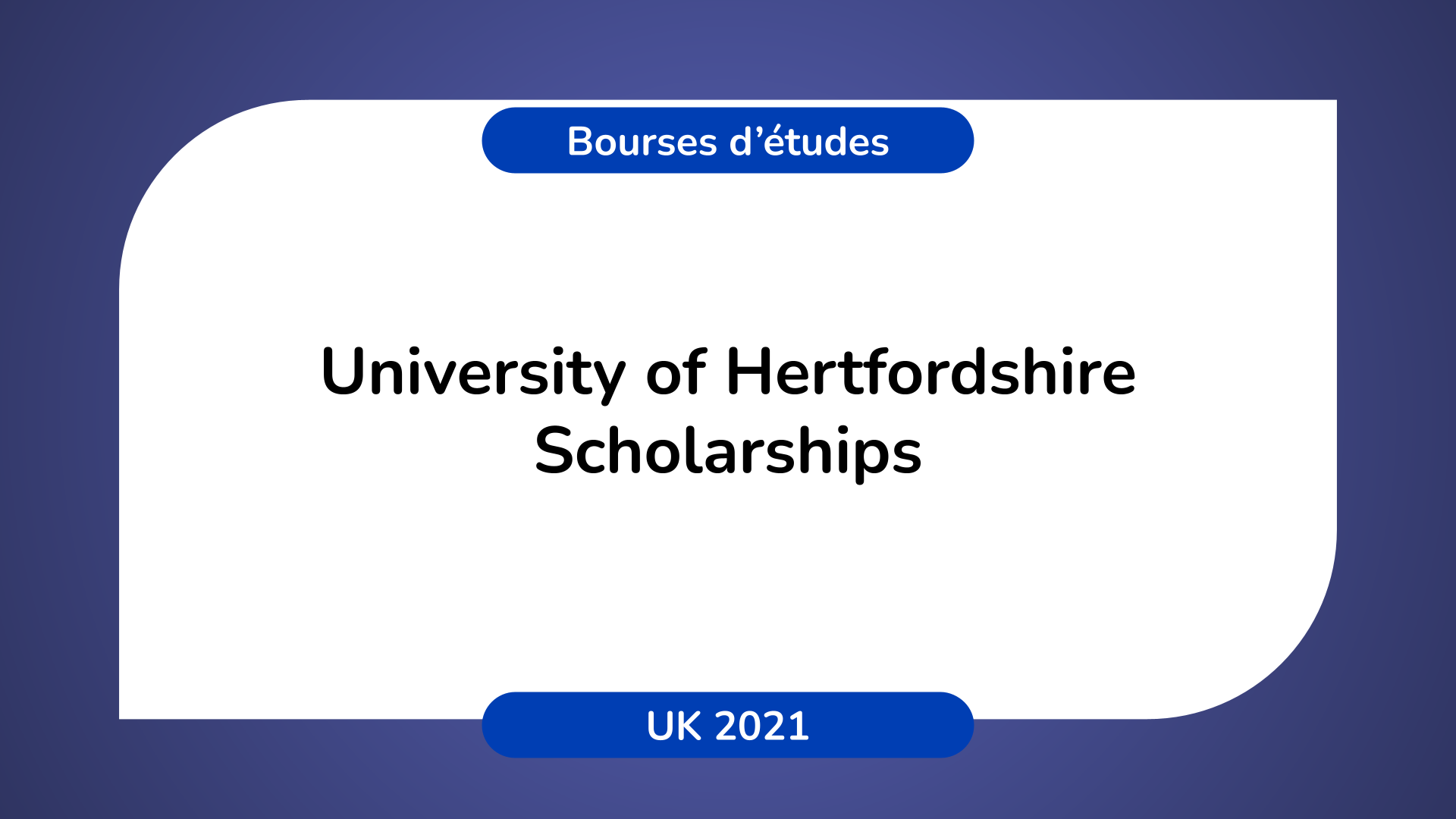 University of Hertfordshire Scholarships UK 2021
Scholarships at University of Hertfordshire in UK for the year 2021.
The University of Hertfordshire awards the Dean's Excellence Funding for the year 2021.
Target group of the scholarship:
Target Countries: All
Band :
The organization offering the scholarship:
Scholarship Name: University of Hertfordshire Scholarship
Organization: University of Hertfordshire
Scholarship data:
Year of scholarship: 2021
Country: United Kingdom
Organization: University of Hertfordshire
Level of study: License, Doctorate
Specialty of the scholarship: Accounting, Computer Science, Architecture, Humanities, Several
Award Amount: Up to £2000
Deadline to Apply: July 31, 2020
Description of the scholarship:
The awards help students reduce their educational expenses. Therefore, to assist students, the University of Hertfordshire is awarding the Dean's Excellence Funding for the year 2021.
The program aims to provide an excellent funding opportunity to deserving students from around the world who wish to begin an undergraduate or postgraduate degree in the School of Health and Social Work.
As Hatfield Technical College, the University of Hertfordshire is a public university in the United Kingdom founded in 1948. It is known as one of the 25 colleges of technology in the United Kingdom.
How to apply for the scholarship?
To qualify with this scholarship, applicants are advised to apply for the Bachelors or Postgraduate program at the University of Hertfordshire via an online application.
Other Information:
If you qualify, your University application will be assessed by our scholarship team.
You are classified as an international student if you are from a country outside the European Union and are assessed as an international payer.
All full-time undergraduate and postgraduate international students may be eligible for the Chancellor's Scholarship. It is not available for part-time students or researchers.
Most University Scholarships, including Chancellor's Scholarships, will be assessed on the strength of your complete application and personal statement.
We assess eligibility and funding amounts on a case-by-case basis, based on course, application and country of application.
Students will be notified by email to let them know if they have been successful in receiving a Chancellor's Scholarship or any other scholarship
Students can only receive one scholarship. For example, students eligible for the UH Graduate Scholarship are not eligible for the Chancellor's Scholarship.
The Chancellor's Scholarship is only valid for the admission (year and course) you have applied for and is issued – if you defer your place, your scholarship will not be deferred.
If you receive the Chancellor's Scholarship and subsequently withdraw from your course, you lose your right to the scholarship.
This post is also available in :
Français